Commercial Landscaping Services
Mike's Mowing provides professional landscape maintenance services for commercial properties such as shopping centres, restaurants, gas stations, apartment complexes and strata complexes. We are fully insured.
Free Estimates
Please submit your details and we will get back to you as soon as possible.
The first impression of any business is often the property surrounding the building(s). An unmaintained landscape does not leave a good impression on your visitors, customers, employees, or tenants. Overgrown plants, weeds in the gardens, and unmaintained lawns will not inspire confidence in the services you provide.
Our reliability and attention to detail will ensure that your property's curb appeal is always first class.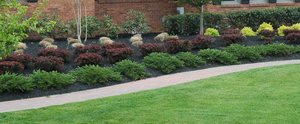 Commercial Landscaping Services Include:
Lawn Care and Lawn Mowing
Tree and Shrub Pruning
Garden Maintenance (Weeding and Bed Cultivation)
Litter PIckup
Spring and Fall Cleanups
Leaf and Debris Cleanup
Aerating and Power Raking
Contact Mike's Mowing today and we can setup your weekly landscape maintenance plan.